Screening Device for Phthalates HM1000A
In July 2019, according to amend to the RoHS directive will add 4 phthalates
(insulate cladding, electronic insulating tape) to the list of restricted substances.
The HM1000A is a dedicated equipment which can promptly inspect on-site.
In addition to easy operation, the HM1000A features high-throughput testing that
achieves automated analysis of 50 samples in approximately 8 hours.

 1. High speed measurement : Measurement at a rate of less than 10minutes!
    High speed measurement is possible as a mass can be directly analyzed because vaporized compounds
    are ionized. (No column required)

 2. Features continuous automated analysis of 50 samples in 8 hours
    HM1000A enables accurate and delicate auto sampler to continuous automated analysis up to 50 samples.
    During the analysis, operations are free to prepare other tasks, resulting in a work efficiency and reducing
    workload.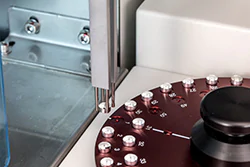 3. Easy operation from sample preparation to analysis!
    Cut the right amount of samples and put in the sample pan, following put sample tray.
    Automated operation of auto sampler begins by simple software operation.
    The sample tray image is displayed on software screen, and can check continuous measurement and
    analysis result (PASS / FAIL).

 4. Low maintenance costs
    Nitrogen gas is used as the carrier gas. Using nitrogen gas generator, a power source is the only utility
    required for operation.
    Helium gas and liquid nitrogen are not needed, which helps keep operating costs low.

 5. Data
    Measurement using scan mode
    Measure the mass spectrum of the sample and perform a qualitative analysis at the M/Z values of
    the spectral peaks obtained.
                         Mass spectrum of a sample containing phthalate 1000 mg/kg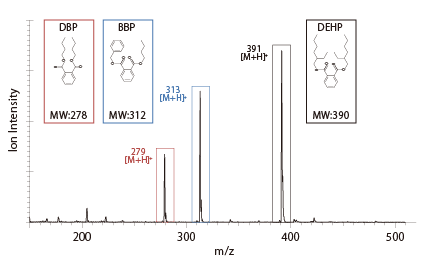 Spectrum peak is obtained from M/Z value adding proton at each phtalates.
    Measurement using SIM mode
    The concentration of the Phthalates contained in the sample can be estimated using the ion
    intensity profile and can be compared to the regulations acceptable limit.
    Ion intensity profiles of DBP, BBP, DEHP
    The measuring sample : Certified Reference Material NMIJ CRM 8152-a
    * Each protonated-Phthalate will be monitored using its m/z value.

 Specification
Configurations

Standard equipment

HM1000A (Main unit / Accessories)

Operation PC set

Main options

 Nitrogen gas Generator (Local supply)

General

Specifications

Measuring object

 Phthalate (DBP/DIBP, BBP, DEHP)

Brominated flame retardants (DBDE)

Sample weight

 0.2mg ± 0.04mg

Sample form

 Solid, Powder

Auto sampler

 Max.50 samples

Mass detection

Ion source

 APCI (Atomospheric Pressure Chemical Ionization)

Mass spectrometer

 Quadruple mass filter

Measurement mode

 Scan mode

SIM (Selected Ion Monitoring) mode

(Max. 20 channels)

Dimensions

and weight

Main body

 510mm(W) X 615mm(D) X 615mm(H) / 85kg

Rotary pump

160mm(W) X 490mm(D) X 265mm(H) / 29kg

 Video