X-ray Fluorescence Analyzer EA1200VX
EA1200VX is analytical machinery supports a wide range of applications from RoHS / ELV
compliance to advanced analysis. Equipped with vortex, which features high resolution, sensitivity and count rate, the EA1200VX has significantly improved sensitivity.  
Using the instrument in combination with the precision control software greatly shortens measurement time.  

 1. High-speed&sensitive analysis 
    Using the combination the exclusively developed high count rate detector from Hitachi and
    precision control software, the measurement time can be dramatically shortened.
    Possible to shorten average time 1/10, compared previous model.

 2. Equipped with high count rate without liquid nitrogen
    The EA1200VX is equipped with the world's best high count rate detector "Vortex®" which samples
    at a rate of 150,000 cps and does not require LN2, resulting in an unprecedented level of sensitivity
    and resolution.

 3. Various application 
    Measurement of Na to U is possible by performing measurements in a vacuum condition (Optional)
    This feature also supports highly sensitive analysis of CI. 

 4. Micro spot analysis
    With a 1㎜φ x-ray beam, the EA1200VX can perform qualitative and quantitative analysis of micro spots. 

 5. Standard materials regarding various environmental regulations
    In addition to RoHS regulation elements (Cd, Pb, Cr, Hg, Br), develop and manufacture standard materials
    that support the management of Cl and Sb, Sn.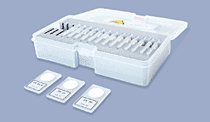 6. Sample Changer (option) 
    The EA1000AIII is equipped with a machine capable of continuously measuring up to 12 samples.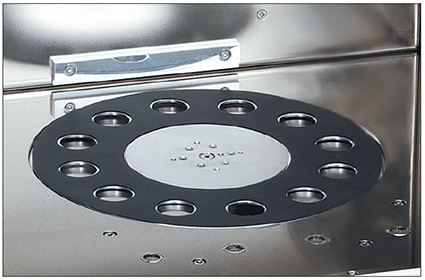 Specification
Elements

Atomic nos. 11 (Na) to 92 (U) ※When using Vacuum Option

Sample state

Solid / Powder / Liquid

X-ray source 

Small Air-cooled x-ray tube (Rh or W Target)

Voltage : 15 kV, 30 kV, 40 kV, 50 kV

Current : 10~1000㎂

X-ray direction 

Bottom-up Irradiation 

Detectors 

Vortex® (SDD) ※No liquid nitrogen required

Analysis area 

1,3,8 ㎜φ (3㎜φ is optional) (Automatic conversion)

Sample observation 

Color CCD camera 

Filter

5 filters automatic switching 

Chamber

430 (W) × 320 (D) × 195 (H) ㎜

239 (W) × 280 (D) × 66 (H) ㎜ (When using Vacuum)

Dimensions

580 (W) × 650 (D) × 513 (H) ㎜

Weight

95kg

Power requirements 

AC100 ~ 110V, 110~120V, 200~240V (50 / 60Hz) / 500VA

※When using Vacuum

Sample changer

※Optional mounting